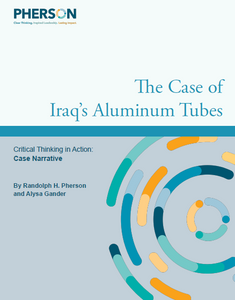 Critical Thinking Case Study
E-PUB: The Case of Iraq's Aluminum Tubes
Regular price
$14.95
$0.00
This publication includes a case study narrative and a case solution.

Learn how critical thinking skills for dealing with politicization, conducting a premortem assessment of your analysis, portraying probability and levels of confidence were applied in this case study.
In 2002, the United States Intelligence Community (IC) published a National Intelligence Estimate (NIE) asserting that Iraq was continuing to develop nuclear weapons. Moreover, it judged that the aluminum tubes that Iraq was procuring from China were destined for a gas centrifuge assembly that would produce highly enriched uranium for nuclear weapons. In the aftermath of the Gulf War a few years later, IC analysts—and several major post-mortem studies—concluded that the foundation for the key findings in the NIE was solely analytic with no evidentiary underpinning, evidence inconsistent with their key finding was ignored, and more consideration should have been given to adding a null hypothesis as a credible alternative explanation. A review of this case study would reveal which key critical thinking principles and techniques were used in answering the following questions:
How Do I Deal with Politicization?
How Might I Be Spectacularly Wrong?
How Should I Portray Probability, Levels of Confidence, and Quantitative Data?
Includes one PDF download on one device, and requires downloading the Flux Player by Flickrocket (free-of-charge).
 The Flux Player supports the following platforms:
Microsoft Windows: Windows XP (Service Pack 2) or newer, 1.5 GHz Intel or AMD processor
Mac: 10.7.2 or newer, Intel processor
Android: 2.3 and newer
iOS: 9.0 or newer
Kindle Fire: 5.1.2 and newer
Chrome OS: 42.0 or newer
---
Share this Product
---
More from this collection