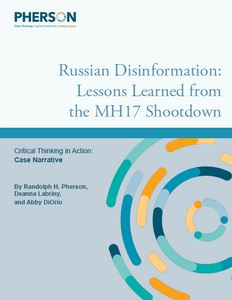 Critical Thinking Case Study
E-PUB: Russian Disinformation: Lessons Learned from the MH17 Shootdown
Regular price
$14.95
$0.00
This publication includes a case study narrative and a case solution.

Learn how critical thinking skills for using models, evaluating sources, and assessing the reliability of internet information were applied in this case study.
On July 17, 2014, Malaysian Airlines Flight 17 (MH17) flying from Amsterdam to Kuala Lumpur was shot down by a missile thirty miles from the Russia-Ukraine border. Significant evidence was found linking Russia to the downing of MH17. An analysis of Russia's response to allegations it was responsible for the shootdown reveals a robust program of denial and deception. The Russian methodology can be described as the Five D's: Dismiss, Distract, Deflect, Distort, and Distrust. Russia subsequently used the same methodology when it targeted the 2016 presidential elections in the United States as well as elections in several European countries. A review of this case study would reveal which key critical thinking principles and techniques were used in answering the following questions:
How Do Models Help My Analysis?
Can I Trust the Sources?
How Should I Assess the Reliability of Internet Information?
Includes one PDF download on one device, and requires downloading the Flux Player by Flickrocket (free-of-charge).
 The Flux Player supports the following platforms:
Microsoft Windows: Windows XP (Service Pack 2) or newer, 1.5 GHz Intel or AMD processor
Mac: 10.7.2 or newer, Intel processor
Android: 2.3 and newer
iOS: 9.0 or newer
Kindle Fire: 5.1.2 and newer
Chrome OS: 42.0 or newer
---
Share this Product
---
More from this collection