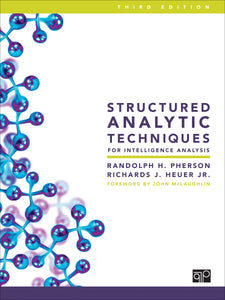 _________________
Structured Analytic Techniques for Intelligence Analysis, 3rd ed.
Regular price
$97.00
$0.00
by Randolph H. Pherson and Richards J. Heuer Jr.
For up-to-date ordering information, visit https://us.sagepub.com/en-us/nam/structured-analytic-techniques-for-intelligence-analysis/book255432.
The third edition of Structured Analytic Techniques for Intelligence Analysis is an updated version of what has become a standard text in many colleges, universities, and government offices involved in intelligence, law enforcement, homeland security, and risk analysis. It has been adopted by dozens of intelligence agencies both in the United States and abroad, and the techniques are increasingly being integrated into analytic products.
Working analysts need to learn these techniques to increase the quality and impact of their analysis while saving time. Students need to master the techniques to prepare themselves for future careers in government or business.
The third edition showcases 66 structured techniques, including nine new techniques. The techniques have been reorganized into six families that track the analytic production process. Logically organized and richly illustrated, its spiral binding and tabs that separate techniques into families make it an easy-to-use, comprehensive reference.
Each technique is clearly and systematically explained: when to use it, the value added, the method, potential pitfalls, its relationship to other techniques, its origins, and examples of how it can be used.
Nine new techniques— Analysis by Contrasting Narratives, Counterfactual Reasoning, Bowtie Analysis, Critical Path Analysis, Inconsistencies Finder™, Key Uncertainties Finder™, Key Drivers Generation™, Reversing Assumptions, Opportunities Incubator™
Strategies for Combatting Digital Disinformation, Generating Indicators, and Selecting the Right Technique
Lists of the best techniques for mitigating the impact of cognitive biases, missapplied heuristics, and intuitive traps
And More!
---
Share this Product
---
More from this collection